Every week, all through the year, volunteers gather to clean marine waste from the Oslofjord. We freedive, kayak, SUP and walk to pick trash from the waterfront, in the water, and under water.
Our cleanups are the core foundation of what we do as an organisation. However, we also work on collaborations with scientists and researchers interested in the marine environment, entrepreneurs developing automated cleaning solutions and/or trash scanning technology, and other events or projects related to making the oceans cleaner and healthier.
The Fjord CleanUP started back in 2016 when Tomas Hansson, the founder of MadGoats, saw all the trash whilst running kayak-trips down Akerselva. As a water lover and responsible business-owner, he wanted to do something about all that trash – and started running free trips on a weekly basis for anyone who would pick up some trash along the way. As he later endeavoured into the floating sauna business, the weekly cleanups was extended to the waterfront around the saunas as well.
There was a lot of trash, people really wanted to help out, hence there was a need for these cleaning events to become formalised to really do something about all that waste and willingness from people to help out. Therefore, at the beginning of 2021 Fjord CleanUP was founded as an organisation of its own, with the goal to:
REDUCE the amount of littering in and around Oslo Fjord.
RESTORE the fjord to a state that is clear of rubbish and pollutants.
REVITALISE the ecosystem, encouraging the return of marine life.
Since then we have pulled out tonnes of marine waste – all from small brittle plastic pieces to electric scooters and sunken boats, done a pilot project to grow sugar kelp with Seaweed Solutions, and created a competent and inspiring community of fjordcleaners who get out every single week, all year round, in efforts to tackle marine pollution. Thanks to Frivannsliv who have donated a lot of freediving gear we manage to stay warm in the water all year round, and with Madgoats as a partner we have kayaks and SUPs to move around, and saunas to warm us back up after cleaning. All the trash we find is picked up pro-bono by iSekk. If that wasn't enough, we also get free burgers for our members from Døgnvill after Sunday CleanUPs!
Picking up marine waste won't save the climate crisis. However, we have given people a way they can contribute, an event they can rely on, and have shown our commitment to clean, no matter the season, no matter the weather. The trash we pull out may just be a drop in the ocean, but the ripple effects of that can help create the change we need in society – by bringing what's out of sight and out of mind, back in sight and back in mind.
We are a bunch of volunteers with a great diversity of skills and backgrounds – but with one thing in common: we enjoy getting together and want to do something about the climate crisis. And we all enjoy the water quite a bit.
If you're someone who want to do something about the climate crisis, feel free to join us cleaning! We are, in the end, just a bunch of people who has once joined for the first time.
If it wasn't for all the fjordcleaners getting out there week after week, there would not be any Fjord CleanUP. On the other hand, there wouldn't be any cleanups if it wasn't for people managing logistics, contracts, partnerships, grants, social media …or getting this information on the webpage for that matter. While its all a collaborative effort, this is our board and those managing stuff behind the trash:
Tomas Hansson
tomas@fjordcleanup.no
Chair and Founder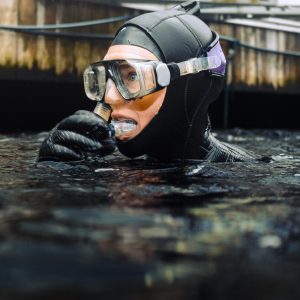 Anoushka Nordby
anoushka@fjordcleanup.no
Deputy Chair
"Enough talk, let's clean" - King Henry Jones (tag JLN 175)